Radek Halíček
Managing Partner, KPMG Česká republika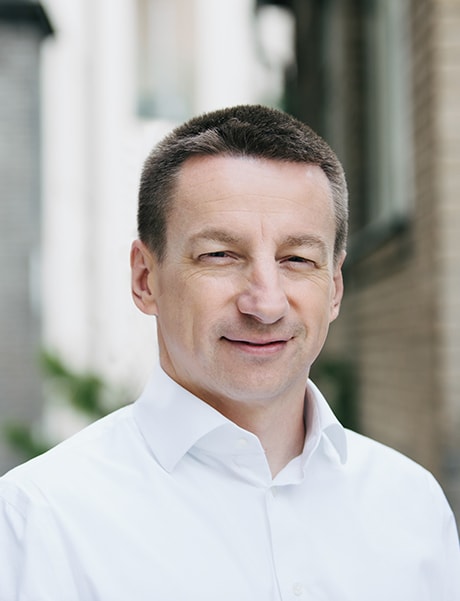 The past financial year was in many ways successful for us. One of the most significant aspect was the complex reconstruction of our Prague offices, as initially we had considered moving to new premises but then decided on the more sustainable approach to refurbish the office building in Prague Karlín that had been our home for quite a while. The building's location is ideal as it is in the centre of the city and easily accessible by public transportation. During the 12 months that we spent under reconstruction, more than 10 000 m2 of office space underwent complete and massive renovations.
We decided on the reconstruction also because we wanted our employees to be comfortable and have a pleasant, inspirative, modern, and healthy working environment. Our corporate culture is based on openness and teamwork; so to bring our colleagues closer together, we connected all floors with a central staircase. Every floor now also features places where employees can meet away from their desks, and we invested significantly into a new client zone offering comfort and unique views of downtown Prague.
As protecting the environment is important to us, we modernised our bicycle room, introduced integrated waste recycling to all floors, and installed sustainable automatic lighting in our offices and tap water filters to our kitchenettes. Business took place as usual during the reconstruction, which indeed is rarely seen in the Czech Republic. I would thus like to take this opportunity to once more thank all colleagues for their tolerance and understanding during the often very noisy construction works.
The growth and development of our people is important to us. Every year, we thus aim to broaden the offer of development courses at our firm. We continuously look for new development opportunities to enhance our social responsibility and expert volunteering projects. I am delighted that according to the Universum survey, students consider us the most attractive employer and the friendliest among consulting companies. This opinion was most shared by female students and hence our recruitment campaign titled "Vyrostly jsme (We've grown up)" features six of our most successful female colleagues.
Social responsibility is a natural aspect of our corporate culture. With our activities, we will continue to contribute to the fulfilment of KPMG's Global Sustainable Development Goals.